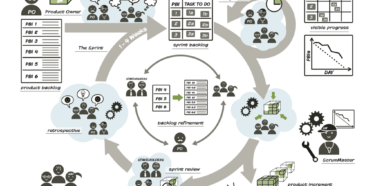 Agile software development is all the rage now. There are agile consultants, agile blogs, agile certifications and all manner of agile this and agile that. But is there any truth in all of this hype? Well, I can safely assure you that yes, yes there is truth to the hype. However, you can only reap the benefits of agile software development if you honestly and wholly engage the process as it was intended.
I began my adventures in scrum and agile software development in 2012 when the web development team that I was the manager of ran smack into all the problems and difficulties inherent in managing modern networked web application development using waterfall project management methodologies. Our solution was a grassroots adoption of scrum. We studied, we experimented, we argued and, in the end, we discovered that while we weren't perfect, we were better off than any of the other development teams around us. In fact, we were so much better that we became their model for their own adoptions of scrum.
Since then I have gone on to acquire nine distinct agile certifications from the International Scrum Institute, the Scrum Alliance, and Scaled Agile (the creators of the Scaled Agile Framework for Lean Enterprises). I continue to study and practice not only Scrum, but also Kanban, Scrumban, Scrum@Scale, and, of course SAFe. I have written and spoken extensively both publicly and for the companies that I have worked for on every aspect of scrum and many topics within agile software development. I have trained product owners, scrum masters, developers, program managers, portfolio managers, and executives on all the ins and outs of agile and I have successfully shepherded two organic enterprise adoptions of scrum and scaled multiple development programs.
If you are considering adopting agile software development, then I have both what you need to understand before you begin as well as the experience and knowledge required to guide your adoption of agile from inception to successful practice.
Contact me